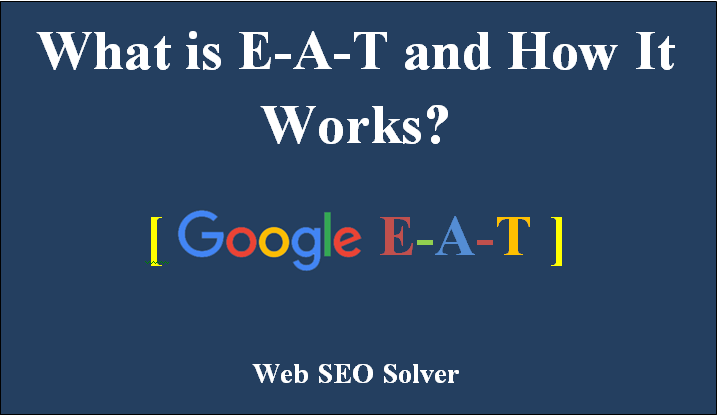 What is E-A-T and How It Works
What is E-A-T ?
A search engine's mission is to provide an original, more relevant, and high-quality result of the search query.
But, what is meant by the high quality is actually a lot like a thing caught in a smoke trap. No one can clear it.
Google's E-A-T concept can clear this smoke a lot and reveals the real definition or closer to the real.
They wanted to define the high-quality content or high-quality result by E-A-T explanation.
Moreover, Google's search engine identifies the EAT signal in the pages to determine the high-quality content from billions of sites. This E-A-T signal possesses a hidden power over the contents, content creators, and websites. It is an abstract conception.
So, our effort today is to shed light on 'what is E-A-T really and how it works?'
Let's now start.
The full form of E-A-T is Expertise, Authoritativeness, and Trustworthiness.
It is a framework of a content page that represents a signal called E-A-T signal. Though it has no specific, it works covering a large part.
Google evaluates this signal for the purpose of measuring the quality of content that ultimately excites ranking improvement directly though, E-A-T is not a direct ranking factor.
The E-A-T concept arises from Google's Search Quality Rater guidelines in 2014. But, this concept has been stirred and sought more in SEO in the last two years, especially after Google Core Updates.
E-A-T lies not only in content; it is sought from content, content creators, and websites.
The three pillars of E-A-T (Expertise, Authoritativeness, and Trustworthiness) are broken down below.
Expertise
Expertise refers to the status of achieving skill or knowledge in a particular field. It is usually sought from a content creator before creating high-quality content.
Similarly, the quality of content reflects how much knowledge and experience the content creators have in the respective area.
If the content is high quality, many sites will be interested to link to that content. Search engines consider and count these links.
If the status of the links is of high quality, then it must understand that the content is of high quality. And content creators will also get a status of expertise in their respective areas.
By doing so, the search engine will improve the rank of a high-quality page in the SERP.
Generally, an expert holds good knowledge of a respective field and it is a formal level. There are also some everyday experts with less formal education or training. They are, however, experience-based expertise. Without education, they can provide value to the content from everyday experience.
The reality of any always goes in hidden and remains locked in many. Expertise only can reach the deeper, unlock the hidden, reveal, create content, and satisfy the readers.
If this expertise creates content, the content will be high quality than non-expertise and this quality content will be identified by Google for its E-A-T signal.
It is perhaps through availing quality links from a high authority domain or any other factors.
Authority
Expertise is the status of an expert for creating high-quality content in a particular field.
But if this content is used as a source of information on another relevant site then the status will be the authority of the content, content creators, and websites.
Authority is a power through which a site can rank its content well.
It grows in a site by counting quality links and dozens of other factors.
Modern search engines such as Google judge these factors (or signals) when evaluating the authority of a webpage.
The goal of a search engine is to give an exact rank of a web page considering those factors.
Its mission is to clean up the web by eradicating spammed and rewarding the good authority content.
Google evaluates the authority signal of a web page to rank it in the SERP.
Higher authority indicates higher chances of ranking and lower authority indicates lower chances of ranking.
So, authority is almost directly linked to the ranking ability.
Now let's see, how to grow this authority in a site or a page.
First is first. It is needed to create high-quality content that can grow links automatically to the content from high authority sites.
We can also raise the authority of a site by following proper on-page SEO rules while optimizing.
While the web pages are receiving links from the relevant high authority sites, the pages are understood as authoritative on the topic.
Also, it is needed to pay equal attention to growing both internal links and external links. They allow easy access to search engines in the content to judge E-A-T signal.
Technical SEO is the foundation. Never forget to strengthen all of it.
Ensure that your website is mobile-friendly and speedy performance. They are also helpful to grow authority.
So, this authority covers a vast area.
It needs to grow in the pages, in the websites, and also in the content creators. It takes time, effort, and talent/skill.
The last talk is that Google identifies and measures authority signals in the content and provides ranking chances.
Trustworthiness
Trust means the reliability, truth, and more beneficiary property of the contents, content creators, and websites.
High-quality content holds these things which are evaluated while raters search for trustworthiness signals in the content.
Trustworthiness is a positive signal in the content.
Accurate information with proper citation and stats, huge contact details in some specific field, unique images and videos and so many satisfying properties of the content and website with a positive reputation can grow trustworthiness.
There are a lot of beneficiary aspects.
Naturally, these sites can draw the attention of the users due to trustworthy information and a positive reputation, increasing leads and sales of the product pages.
High authority sites become interested to link these contents.
Due to the high-level E-A-T signal, Google appreciates trustworthy sites and ranks them well.
How does E-A-T work ?
E-A-T signal helps search engines to judge the quality of the content. Also, it excites ranking improvement. The higher is the E-A-T signals in content, the higher will be the content's ranking power.
So, how does this E-A-T signal work in content?
E-A-T means Expertise, Authoritativeness, and Trust.
E-A-T works in content creators, on content and in websites.
Before enriching the high level of E-A-T signal in content it is essential to measure E-A-T level in content creators.
If high-level E-A-T in a content creator is confirmed, it is natural to create high-quality content.
The content creators can be knowledge-based formal or real-life experience-based or both.
As an expert and high authority on the topic being able to enrich the E-A-T level in the content providing more helpful information. This high-quality content is supported by visitors and high authority sites through links. Thus authority grows in content. It is renamed a signal.
In this way, the highest quality content can exhibit high-level E-A-T signals. Google identifies these signals, counts them, evaluates them, and lastly provides ranking facilities.
Conclusion
It is now clear that high-quality content refers to the content that holds a high-level E-A-T and a low-quality page lacks an appropriate E-A-T level for its purpose.
There are many ways to strengthen E-A-T signals since E-A-T covers a vast area. Almost every effort in a site/page adds value in E-A-T whether it is small or large in amount to give a rate of content.
So, the future of SEO will depend much on E-A-T a lot to find high-quality content from the web.
In those days, the value of E-A-T will be more prioritized, because Google is committed to satisfying its visitors by providing high-quality results for their search queries.
What is E-A-T and How It Works
Related Term :
What is original content and how to create it