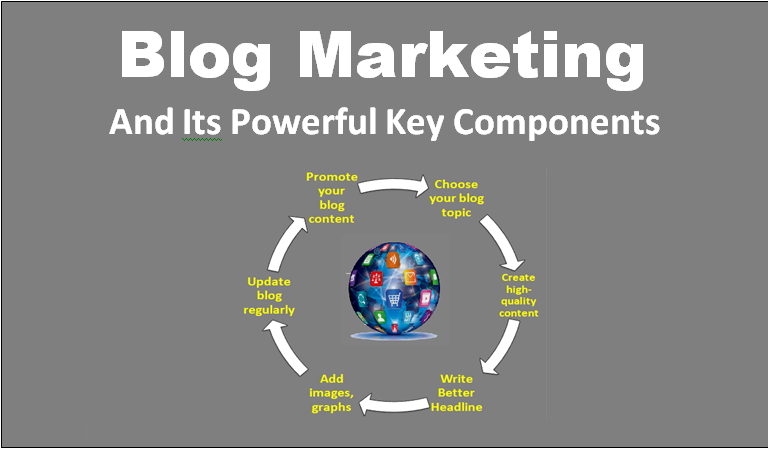 Blog Marketing and Its Powerful Key Components
Is blogging a good tactic for marketing? Many companies prioritize blogging for generating positive ROI and keeping away the tight competition in business.
Business needs promotion, ranking, customers, sales, and profit both online and offline. It is a big struggle for any business to reach these goals in their journey.
Many companies do a lot to make these things a reality. They invest hugely in outbound marketing.
But, in the era of the internet where no less than 63 % of the world population is connected can get information about any products or services within a second by giving a search in the search engine instead of finding information from different media.
Now to meet the era, blogs have taken the place of the user's search results to a large extent. It appears with helpful information about the products or services of a business to the users.
A blog can present any business brand to potential users in an easy and effective way to inform, teach, motivate and ultimately convert them into customers.
This strategy of marketing of any product or service is called blog marketing.
It is similar to the content marketing strategy to reach the target customers to achieve their trust.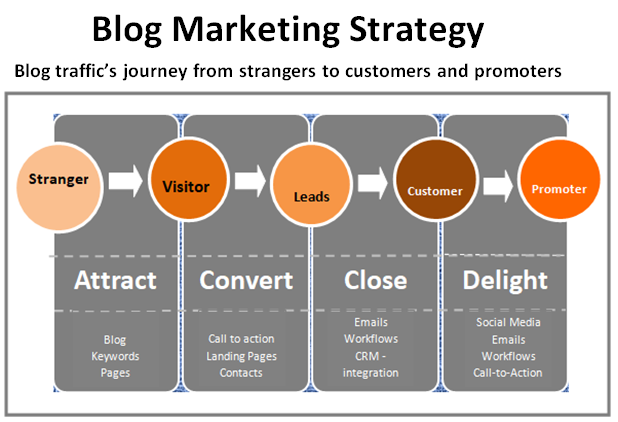 Any business needs to maintain a blog to keep relationship with the customers and provide upgrade information about the products.
If the blog is maintained well and published post regularly, it can rapidly reach the business to the target customers and achieve loyalty.
Even if the customers don't interest to purchase the products, blogs keep a probability to change their decision after reading the presentation about this product.
So, blogs can increase the bright prospects of any business.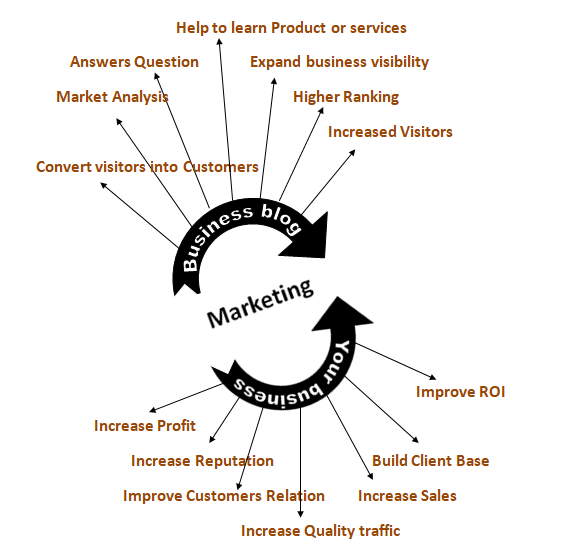 Key components for blog marketing
To do blog marketing, a number of important rules and strategies need to follow on a regular basis. Among them, six key components are discussed here.
Choose your blog topic and purpose
You should have a specific purpose behind deciding on a blog topic and start writing.
To gather traffic on the site is a common desire of all.
But, drawing the attention of the target visitors is somewhat tricky and requires the blog to be written to provide a real solution.
This is the strategy of blogging that helps to drive target visitors to the blog. Effective blogging is an essential part of effective blog marketing.
If you can choose an effective blog topic and write as well to please the transactional intent of the visitors, you will be able to drive traffic, generate leads and convert traffic into leads and customers to increase sales of your business.
Similarly, informational writing satisfies the informational intent of visitors.
This is because blogs can teach the users about the products and services of a business in their journey to be informed and thought and lastly encouraged to purchase. This is the root talk of blog marketing.
Create high-quality content for your blog
High-quality content can bring a big profit for blog marketing. That's why there's a lot of shouting all around that 'content is king'.
Generally, high-quality content says the accurate reply of the search query. It satisfies the users who search for information about business products or services.
If your blog content is okay to search engines and its users, it will be ranked high; it will be visited by the most clients of your business who will either be customers or consumers.
In this way, you will reach the right clients for your business through your blog post if it is ranked high. Your clients will know your business from your blog post, discover information, and lastly may purchase your products or services. Thus your blog marketing process will convert the strangers into customers and will increase your business sales and profit.
So, create high-quality content for your blog to satisfy the users' search intent as you require whether it is informational or transactional, and bring your target traffic.
Write Better Headlines
In the novel, while naming you can decorate the ugliness inappropriately for fun and enjoyment, but you have to think more carefully while writing the title, heading, and subheading of a blog post.
Because it requires good SEO scores to be ranked in search engine results.
Also, you need to analyze character count, word count, readability score, power word, emotional words, keywords, etc in the title or heading that help to rank.
For example, 55 characters in a title of a blog seem to produce the highest amount of click-through rates.
Search engine prefers headlines that are 5-7 words long. Power words in titles grab users' attention and increase conversion rates.
Ensure using keywords in titles that are low competition and high search volume.
To increase the value of headlines you need to maintain these actionable tips and they will make sure the effective results of blog marketing.
Add images, graphs, charts, videos, and infographics
Images can tell much-untold information than it is expressed in written language. So, images, graphs, and charts are considered an important and integral part of a blog post.
They definitely enrich the blog information if maintain relevancy and meet quality issues and uniqueness.
Adding relevant videos to a blog delivers the best ROI and counts more viewers and inbound links to the blog.
Also, sharing infographics in a blog post is an extraordinary way to enlighten blog information.
It beautifully presents the summary of blog content using graphics of stats and survey results that boosts the power of a blog to bring traffic and inbound links.
Update blog regularly
The blog should be updated regularly to achieve all the benefits of blogging. 'Once a week' is the better though many bloggers maintain different duration like daily, weekly, and monthly basis for blog writing.
Buyers will never come to visit the blog if the content is not regularly updated. The target buyers who visit and their conversion rate depends on how regular the blog is.
Promote your blog content
Doing business without promotion is like winking at a girl in the dark. You only know what you are doing. Nobody knows it. That's the thing in the case of blogging for marketing.
A blog can be high quality but it needs to be judged by other experts to gain backlink for its high ranking. Also, the blog needs to be visited by the relevant users for conversion.
If the blog content is exposed to the public, it will be proved authenticity. Otherwise, it will be suppressed.
To promote the blog content, it needs to share on different online platforms.
Firstly, go to share the blog on social media and blog promotion sites at the right times.
Then share the blog link with relevant communities.
Send emails to like-minded people. This will help the business reach a wider audience. Create a weekly newsletter, include your business information and update it timely.
Write guest posts for other relevant sites and don't forget to share the blog link.
These will help more people discover your content.
Blog Marketing and Its Powerful Key Components
Conclusion
Blogging is a good marketing strategy. This business strategy is well received at B2B level and also B2C level companies.
The reason for this is that it plays actionable role in the journey from promotion to selling products or services of a business.
Blogging brings potential visitors to the blog, provides answers, develops thoughts regarding products, helps to make decisions, and in a stage converts the common visitors into customers to buy the products or services. Thus high-quality blogs drive long-term results for a business through marketing.
Blog Marketing and Its Powerful Key Components
Related Term :
What is original content and how to create it