Contents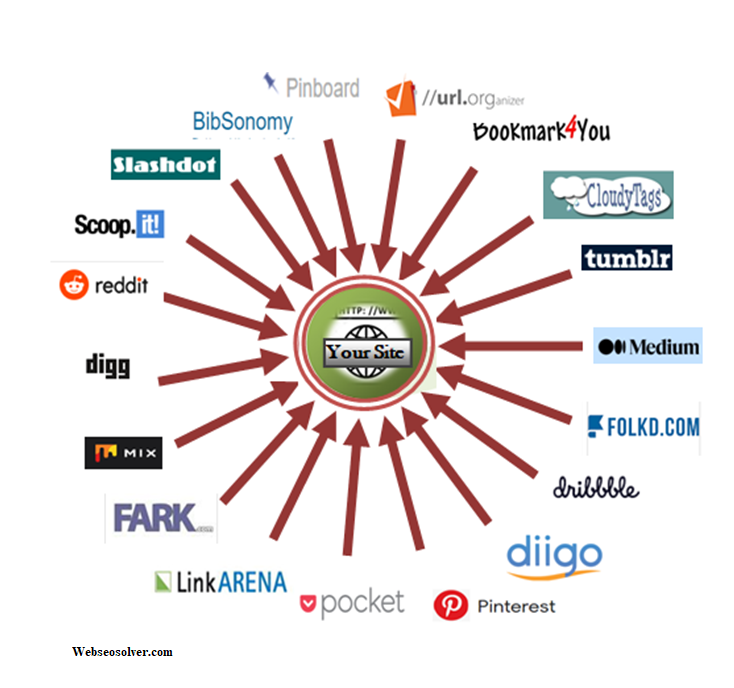 What is social bookmarking?


Social bookmarking is an online content promotional service that facilitates the users to add and share bookmarks of the web contents in bookmarking sites to get search engine visibility and SEO value. These added or saved links to a Web page are the tagged pages on the web. You can get huge visitors to your site from top bookmarking sites through these tagged pages if they can involve with the whole network. Since this process is an off-page optimization activity. It improves your keyword ranking and generates backlinks to your website.
Benefits of social bookmarking
You can share your website online through social bookmarking.
With social bookmarking, you can take your website to a wider audience and make your quality content viral.
If you get backlink from social bookmarking sites, you will get quality backlinks.
Social bookmarking can increase search engine visibility and brand awareness.
Social bookmarking plays a great role in ranking your site/pages under a keyword by providing SEO value.
Social bookmarking helps to build links and preach the products and services of your business.
When you bookmark your web page in a high DA social bookmarking site, search engines will give your post a similar value of that bookmarking site and will rank your post-high.
How does social bookmarking works?
Bookmarking refers to a service of posting a website link in vastly user-connected bookmarking sites to get their users to access to your post. In social bookmarking sites, the tagged pages/posts are organized with title, description, keywords, etc in such a way that users can visit, follow and share the contents with others that are interesting to them. You can not only store your online resources in bookmarking sites, but you can also make them accessible to the public and share them with friends. Even by creating a group, you can share your posts in groups. In some social bookmarking sites, there is a system of discussion thread where threads begin with an initial subject or a question and continue the discussion with a series of replies, comments or votes by focusing on that topic. Here, notifications are sent for appearing any new post. So, in social bookmarking the term 'social' explains the sharing and collaborating feature of the post.
How to do social bookmarking submission:
1. Before submitting your web link in social bookmarking sites, you need to go for sites that have high DA and provide the benefit of a do-follow link.
2. Then you need to open an account on that bookmarking site. Search for sign-up or register button for opening an account. In this case, you may need to fill out an application form.
3. When you click on Create Account button a confirmation link will be sent to your email address. You need to do mail verification. Thus your account creation will be completed.
4. Now log in to your account using your user name and password.
5. Search for Submit a link button and click the button. In this step, you will find a form where you may need to provide Title, URL, description, keywords, captcha code, etc., and then click Submit button. Thus your site/post will be bookmarked.
In this way, by uploading your web link to the site you can certainly create a social bookmarking link
Social bookmarking submission tips:
When you go for building links through bookmarks, you should confirm that the bookmarking sites are with high DA and the sites provide the do-follow links.
Before submission, you need to follow the submission guidelines of the sites strictly.
All the data of the submission form need to be filled in properly.
Include tags relevant to your niche, write catchy or magnifying headline and meaningful description so that the post becomes noticeable and create interest among the readers.
Never use any auto-submission software for social bookmarking.
To drive traffic to your post from the social bookmarking sites you need to understand the communities of the site and stick to them spending hours.
Engage your network of social sites by sharing, commenting and voting.
Never try to do any illegal actions that violate the guidelines of the bookmarking sites. The moderator may suspend your account or delete all the bookmarks that you submitted.
Final thought
Social bookmarking is an important technique of off-page SEO to rank your site and bring tons of traffic to your website. Sometimes, it is seen to talk that social bookmarking is an old activity that does not work anymore. But, if it is done correctly this SEO technique can do a great job bringing up your link on the search engine result page. Social bookmarking technique is still working in 2021 for increasing SEO value. The success largely depends on the quality of the social bookmarking sites and the continuation of some important activities after submission.
Related term :