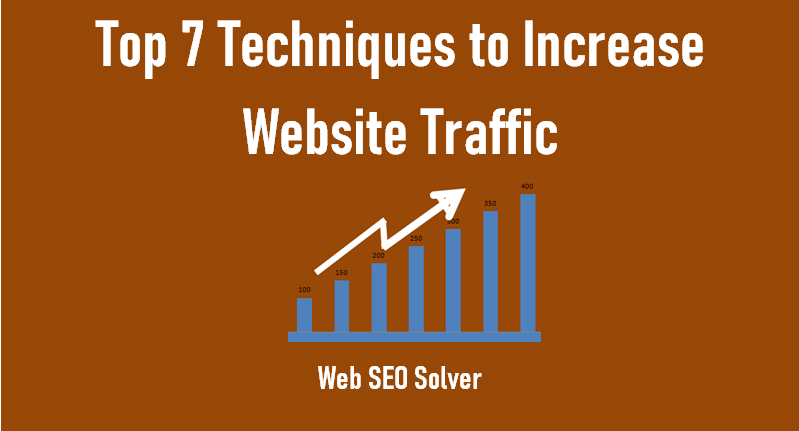 Top 7 Techniques to Increase Website Traffic
A website needs traffic. It is an inevitable matter because; zero traffic proves no activities on your website leading to no customers and no business sales. Zero traffic means the site has no purpose and no goal.
If there is a purpose in a site it must require traffic. It requires targeted users to meet the purpose to achieve the goal by satisfying the users' search intent.
This goal can be varied. Some want to earn business success, some want to spread knowledge or information, some want to serve entertainment, and so on.
On the one hand, just as different websites have a different goals, so do different visitors who have different search intents.
SEO knows how to combine these two things to one goal.
For instance, you want business success. To implement this purpose, you need business visibility, branding, customers, sales, and profits.
They are achieved if you bring targeted quality traffic to your site.
The struggle of all on the web is only how to meet this traffic issue successfully.
There are hundreds of techniques to handle traffic issues on a website. Only the top 7 techniques will be discussed here that really work.
Let's get started.
 Top 7 Techniques to Increase Website Traffic
Top 7 Techniques to Increase Website Traffic
These are the top 7 techniques.
Create A Memorable Content
Improve Your SEO
Acquire Quality Backlinks
Drive Huge Traffic by Email Marketing
Write Guest Posts
Promote Your Content on Social Media
Restructure Your Old Posts
1. Create A Memorable Content
Before starting to write content give time to choose a relevant, fresh, and well-accepted topic that may go viral after publishing.
Similarly, the content should meet the best quality answers to the user's search query.
If the content meets this issue well, this content can genuinely take your business a long way.
Add catchy and great SEO headline. It is likely to rank in the search result.
Relevant visual content is the most loved feature in any writing. It could be pictures, diagrams, charts, infographics, online videos, screenshots, etc.
They are also independently recognized in the content and bring alone more traffic as well.
The optimal size of the content in the blog post is great for SEO.
Long-form content is typically 2000 words or more and short form is around 1000 words.
Finally, it can be assured you that quality content drives huge traffic. Maybe it is related like fishes and baits for fishing. You can certainly invest in content marketing to boost traffic on your site.
2. Improve Your SEO to Grow Traffic
SEO ranks your page higher in the search result. It can bring over 50% of traffic to your site.
If you write high-quality content which is regarded as the best answer of all and ranked high for SEO it will get more clicks and more traffic.
Also, if traffic keeps visiting your blog it will get a higher rank which in turn generates more and more traffic. Direct traffic helps in SEO. It is key to ranking.
All the techniques to improve search result ranking and to get more traffic are mostly included in on-page SEO and off-page SEO.
So, by working on these SEO practices, you will certainly be able to improve both ranking and traffic.
To do these, firstly act on Keyword research.
Keyword is an important factor for ranking content since search engines are keyword based.
Content should not rank for only primary keywords it should rank for more long tail keywords to get more traffic.
Keywords aren't dead. Rather, selecting the right keywords and optimizing them in content well following proper SEO rule is the precondition of content ranking.
After keyword optimization as well, it is needed to start off-page SEO activities.
Off-page SEO means optimizing your content for search engines by acquiring votes from others high authority sites in favor of your post.
The process is merely acquiring backlinks.
3. Acquire Quality Backlinks
Backlinks are essential to driving website traffic but it is difficult to mention the backlink-to-traffic ratio. If the site has millions of backlinks but very little organic traffic, the site will be regarded as a spamming site. The value of Backlinks depends on both quality and quantity matter to generate traffic.
Google considers quality backlinks as a ranking factor.
High-quality backlinks help to rank content higher and generate more organic traffic.
If the content rank higher, the users will come to your site by clicking the search engine results.
Also, a website gets referral traffic from another site through backlinks. In this case, quantity is a matter.
The fact that the visitors follow backlink in content, click it to find more information and land on another website.
Some sites get huge direct traffic for a link that has public importance and is shared to many sites.
So, the more backlinks a content or a site has the more traffic it will get.
4. Drive Huge Traffic by Email Marketing
Email marketing is an act of sharing business information, new products, sales and, updates with the clients and the visitors by directly sending more personalized content.
Every business needs to maintain a blog to keep a relationship with the business followers.
It is possible to keep the followers engaged by serving different content on the blog. When you regularly post different content and promote them on the right platform, it will get huge traffic. Few of them will be converted into subscribers.
By continuing email communication with the subscribers and the business followers you can drive tremendous traffic in the website.
So, an effective email marketing strategy not only drives sales and traffic but helps to build a community around your brand.
5. Write Guest Posts
In order to get success online, it is important to continue writing not only on own blog but on other's famous blogs. This process of publishing blog on other's website is named as guest posting.
One can certainly keep one or more do-follow or no-follow backlink in other famous blogs while publishing.
This backlink will help to boost referral traffic and increase search engine result page ranking.
In addition, it is another way to bring traffic if you become responsive to the comments and interact with other blog posts.
6. Promote Your Content on Social Media
Social media is a great place to connect and engage potential customers.
There are many sites to promote posts like LinkedIn, Twitter, Youtube, Facebook, Instagram, and even TikTok.
All of them allow marketers to keep connected with the customers. Social media also offer fea w specials to the B2B and B2C marketers like advertising facility and so on.
Also, there are many social bookmarking sites like Reddit, Mix, Digg, Facebook etc. to promote your post. If you can manage a place to keep your link on any popular post of them or post article and promote regularly, you will get huge traffic for your sites.
7. Restructure Your Posts
Your old post needs restructuring. Search engines and their users always like fresh content. An updated post on the SERP can significantly increase CTR and lead to a surge in traffic.
Final Thought:
There are various ways to raise traffic to your site. But by taking these 7 actionable tips, you will definitely be able to increase traffic to your site.
Some steps will give instant results while others will take time.
Be patient and practice them altogether. You will never return with empty-handed.
Instead, these actionable steps will undoubtedly strengthen a traffic base of the site.
Top 7 Techniques to Increase Website Traffic
Related Topics :
Blog Marketing and Its Powerful Key Components
What is E-A-T and How It Works?