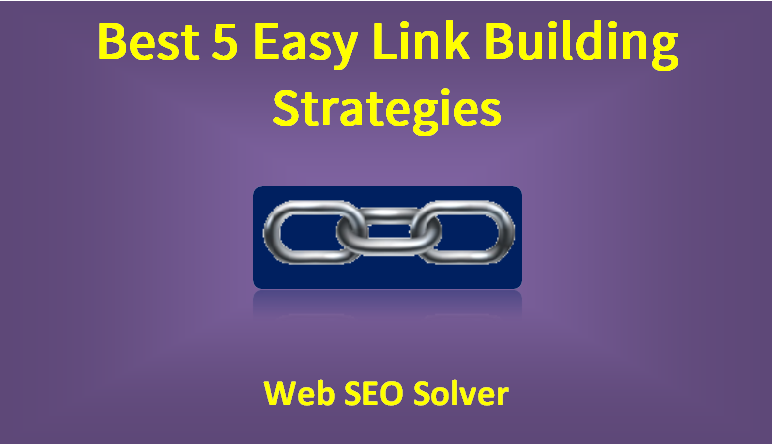 Best 5 Easy Link Building Strategies
Building link is an inevitable part of SEO. It is considered Google's best ranking factor.
There are hundreds of ways to build backlinks. Most of the strategies for building backlink is hard to implement. They are time-consuming and hard to acquire.
Consequently, most people skip SEO as a profession from their career or hire an SEO expert to rank their sites.
But I am here to request them to study this article where I say that perfect link-building techniques are in fact easy process.
We always need not follow the difficult method for building links.
If the site is small in size and in the beginning level, these 5 strategies will be a good solution for SEO.
But if your site is big in size you may need to build links of different complicated methods to earn high-quality backlinks to rank your site at the top.
However, here are my 5 easy strategies to build links by spending zero pennies.
Don't pause. Keep continuing.
1. Natural Link Building Strategy
There are different types of backlinks in the SEO industry. They are paid links, reciprocal links, guest post links, natural links, and so on.
Among all the types of links that are common in SEO, natural links are the best.
It is not a link to be built by website owners for the purpose of building links.
When the website owners find any high-quality viral content, they would like to share the content on their website for their site readers. Thus, high-quality content goes huge sharing and earns huge natural links.
This is because the site owners think this content will be helpful to their site readers. It is a cool and perfect answer.
It is the process of creating a natural link. Google considers this type of link the best.
These natural links work great in SEO and also help in driving traffic.
Now the question is how do we get this link?
To build such links, you require no hard work and no money.
The things that you need is just to create high-quality content and promote them on various platform of the internet.
That will be enough. Everything else will happen naturally.
Directory link building Strategy
This link-building technique is a popular method since before the beginning of search engines. Two advantages derive from this method.
One is just listing your site in directories that help people to find your site easily from the internet.
The other is the benefit of having a do-follow backlink from the directory site of high DR that help in SEO.
These backlinks still work well and pass link juice if they are set correctly. So, you can easily grab these two advantages when your site is small or at the beginning level.
There are hundreds of directory sites on the internet. Choose the right directories, submit your site details and grab these two benefits easily.
Customers or Friendly Request for Link
When you are getting huge customers in your business, you can tell your clients to place a link to your site on their business sites so that the visitors can access your site easily. Thus you can get huge customer links on your site and they will increase with the increase of your customers.
Also, you can request your friends for backlinks. If your friend's niche, for example, food items or food-related items, you can ask him for a backlink on your food-related contents like text, infographics, etc. of your site. It could be a win-win for both.
In this case, you will just need to send an outreach message to request a link.
Competitor Backlink Analysis to Gain Link
Competitor's backlink analysis is another easy strategy for earning quality and niche backlinks. It is not very hard to gain. You need to check the competitor's backlink profile. Also, you need to spy on only those backlinks that help to rank a keyword top.
Since link building is a hard matter you can easily earn backlinks by spying on how your competitors are building links. You can initiate this job by using backlink checker tools like Semrush, Ahrefs, ubersuggest.io, etc.
Firstly, you need to identify your competitors.
To do that you need to select your focus keyword by doing keyword research.
Now do a Google search on the selected keyword and see who is ranking the first side on the first result page. These are your competitors.
You have to check and note down everything about the competitors like content quality and details, backlinks including both quantity and quality, etc. that they have.
After that, you have to go to all who have given links to your competitors and request them to link to your site also. You should try to achieve more of them. You apply filters to select and prioritize the quality of links which will make the task much easier.
Use sharp email outreach tactics to go to all and logically request them for links who have given links to your competitors and bring about a successful outcome.
Use of HARO to Build High-Quality Backlink
HARO stands for help a reporter out. It is a service that connects journalists with sources. It also connects sources with journalists.
This service is another opportunity to get natural backlinks and referral traffic.
After you have signed up on https://www.helpareporter.com as a "source", you will get emails with a list of queries from journalists at various publications.
HARO sends emails at 5:45 am, 12:45 pm, and 5:45 pm (EST) every day.
To avoid huge emails, you can filter down the results to find relevant ones from the lists and send high-quality answers as soon as possible. It doesn't mean journalists are going to cite you just because you responded.
So, to increase your chances of getting mentioned, look for queries where they are likely looking for multiple experts on the topic.
Lastly, HARO is a super-easy way to get high-quality backlinks. If everything is done well, you need just a bit of patience for the result.
Final Thought
These 5 strategies of building links are absolutely easy way than any other link-building strategies that anyone can practice. One high-quality link can beat hundreds or thousands of low-quality links. So, why do you not grab them? It is needed to prefer high-quality links, not the quantity of low quality to rank keywords.
Best 5 Easy Link Building Strategies
Related Term :
Directory submission site lists