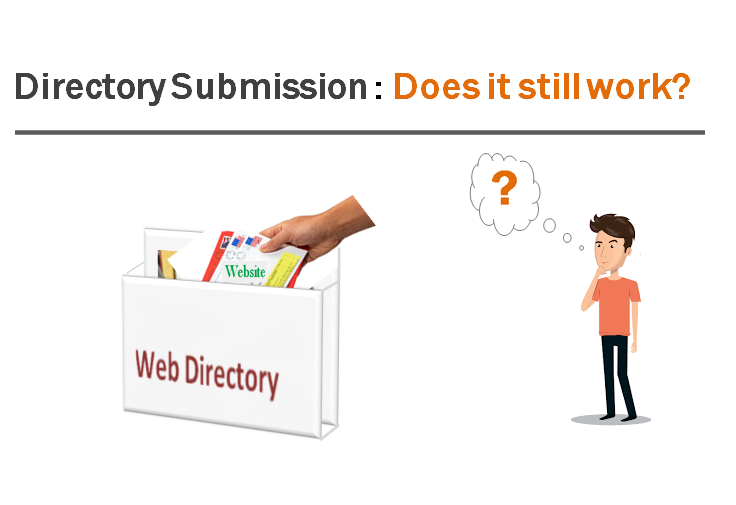 What is web directory?
The conception of the web directory has come from the early development of the web. In those old days, web directories were for easy browsing and later became a priority for SEO.
Before going to analyze whether this old practice is still working or not, let's take a quick look at what a web directory is and how it works.
Web directory is a collection or list of websites organized and categorized for the target of easy searching and browsing. An online web directory generally works like a search engine. But, in a web directory, people find sites by topic manually not by keywords. So, it is often called topic directories that contain site's information like NAP data and description of site's content or business information.
What is directory submission?
Directory submission is the way to add your website and its details to a web directory under a specific category. Most of the directory sites allow website submission manually in exchange for link building and huge traffic opportunities. Some directories allow paid submission and some offer free listing under the relevant categories. Today directory submission is not for only easy searching and browsing. It is now considered a common SEO technique to earn back-links for the submitted website.
Types of directory submissions
Directory submissions are done in three ways.
1. Regular or Free Directory submission
2. Reciprocal regular web directory submission
3. Paid Directory submission
Regular or Free Directory submission
Regular directory submission is a free submission method. This type of submission allows link-building techniques without any link backs in exchange. It is a submission for one way link-building opportunity. Due to a lot of submissions every day, the web directory administrators take a long day for regular links to be reviewed.
How to do submission:
When you click on submit link button in the directory site you will get regular link option. You have to fill an application form that contains Title, Url, Description, Meta Keyword, Meta description, Your name, Your email, category, etc. Thus your application will be approved. But in cases of regular submission, there is no assurance of gaining an approved link.
Reciprocal regular web directory submission:

Reciprocal submission requires a link back with your link submission. It is, in fact, a two-way link exchange. Before submission, you need to provide a reciprocal link. After activating the reciprocal link your submitted link will be approved. In this case, as usual, you have to fill the application form like a regular link.
Feature links or paid links:
Web directories offer feature link opportunities to the site owners to submit their links under specific categories. It is a paid listing method with different advantages. Featured links are reviewed within 24-48 hours.
Important Tips on directory submission

• Take time in choosing the right directories before submission.
• Select directory submission sites that have high DA, high traffic, and most popular.
• Select relevant tags and write the best title and description for your submission.
• Don't use the same title, description, link, and keywords for every submission.
• Always select a relevant category when you go for directory submission. Selecting the wrong category may penalize your site.
• Submit original and unique content in the directories that will help the link to be indexed and ranked.
• Follow strictly all the policies and guidelines of the directory submission sites.
Benefits of directory submission
For better search engine rankings:
John Mueller Webmaster Trends Analyst at Google, himself has said that directory links "generally" don't help with SEO. But, according to research, it is found that web directories still appear to be a ranking factor. So, if the submission technique is done properly it can bring larger benefits in SEO and link-building campaigns to divert traffic.
Increasing link popularity:
One of the chief benefits of submitting links in directories is that in exchange for either charge or free, directory submission provides high-quality backlinks. Search engines count every backlink separately and give a value to link popularity.
Generate more traffic to your site:
As you submit your site more in different directories under a specific category, traffic will easily find your site. If you use the right keywords for your entries, your directory listing will be listed in search engines. Thus, your site will rank well in search engines and will send you targeted visitors.
Improve indexation:
When you submit your site in a directory, it will be indexed instantly by search engines. Search engines will easily find your website by tracking traffic from other websites.
Online media for branding:
Directory submission is a comfortable method for reaching your business products and services to huge customers. It acts as a signboard to divert traffic to your site creating a strong, positive perception of your company and its products or services in the customer's mind.
Why are directory submissions not effective?
Directory submission is an off-page SEO technique. There was a time when directory submission was acceptable, and common, to make an SEO strategy for website link building.
With the advent of updates to the Google ranking algorithm, many directory sites are banned and penalized.
Many directories nowadays do not offer any SEO value.
But why it is.
The following points may tackle in answering this.
Directories identified as spam
The purpose of directory listings was for easy searching and browsing sites by category that would contain site's information like NAP data and description of site's content or business information etc.
But now the matter has become different. Today many directories have become a source of the only backlinks for SEO benefits. In the eye of Google, link submission to those directories is not the right way to build links. They are mostly identified as spam directories.
Negligence in directory management
Directory sites with high authority or low are mostly vulnerable to mismanagement. These directories often lose credibility due to long delays in their submission approval or due to the rigid organizational structure. Many allow low-quality or fake entries. The search engines don't help submissions in getting ranked.
Penalty in SEO
When it comes to paid directories, few directories are only Google compliant. Paying for links is not legal. Paid directories are often renamed as paid links. Google has been downgrading link benefits built from those directories. Gathering all these low-quality links on the site for SEO, will, in fact, carry bad credibility and definitely lead to penalties. In some cases, for now, though it is to add value to the site, the result is not last long.
Rare in number of quality directories
Today, the number of quality directories is small. The experience is that most of the directories do not offer any SEO value. Most of them don't have traffic and even offer links with nofollow that provide no link benefit. Many are offering only link benefits but not other else'. They may cause more harm than benefit. Search engines are giving less priority to submissions on those directories.
These are the reasons why directory submissions are not effective.
Why are directory submissions still working?
It is true that directory submission is an old days SEO practice. There were four chief SEO benefits to applying this strategy to your site.
1. Backlink
2. Traffic
3. Quick Indexing
4. Branding
But in the whirl of time, the value and effectiveness of this strategy have waned. Google's John Mueller himself has said that directory links "generally" don't help with SEO. Google has also said in the past that directories aren't the right way to build links to your site.
This does not mean that directory submissions are completely inactive or meaningless.
According to research, it is found that submission in web directories still appears to be a small ranking factor.
But why it is.
If directory submissions are done correctly, it can still work as a part of the larger SEO campaign.
Even if you eliminate the thought of getting backlinks, there are still many web directories with real traffic. They could contribute real value to your website.
Directories are a great source of traffic and trust.
See, if we now talk about backlinks from directories, Google is not penalizing paid directories for indexing links.
Rather many paid directories comply with Google guidelines and are getting good signals of authority.
So, links from these high-authority sites in a legitimate fashion can bring value to your site.
The hope is that many directories meanwhile have been reformed and come out with their reputable services.
Also, a number of directory sites still act positively to add real value to your site and help to get ranked in the search engines.
Many local directories similarly work well for local citation listings and local SEO.
So, directory submission is still working and is being counted as a ranking factor.
Conclusion:
There is a way to resolve the controversy as well as the pros and cons of directory submission. The value of the old remains low though the value of this SEO technique done in the correct method has not still diminished. It is needed to pay strict attention to some issues. Before submitting your link you need to select the right directory. Always find directories relevant to your field with high traffic, high DA, and high reputation. Remember, bad directory submission will affect the site severely. So, selecting the right directories, submission following proper guidelines, and earning high-quality links in return can definitely help in SEO.
Related :
Directory Submission site
Greeny Directory.com
Direct-Directory.com
We are also listed in seolist.org's
New York SEO Listings
Reviewed and approved by webdesignlistings.org –
WordPress Listings